Verse 1. The psalm begins with the statement, Oh, the joys of those who do not follow the advice of the wicked, or stand around with sinners, or join in with scoffers.
A question that comes to mind is: What does this mean in present day terms, for me? In particular:

What 'advice of the wicked' have I listened to recently? Did I accept it and act upon it?

Who are today's 'scoffers'? Do I echo their views in my conversation or writing?
Verse 2 invites me to consider the joy of those who delight in doing everything the Lord wants, and day and night they think about his law.
This verse prompts me to ask:

Do I experience the same joy as the Psalmist did when I think about God and his Word?

Since I am one who has been redeemed from the curse pronounced by the law (Galatians 3:13), then surely I should be even more thankful for what God has given to me than the Psalmist was about the law?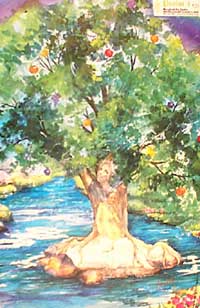 Verse 3 leads me to think of a similar reference in Jeremiah 17:8. I picture in my mind's eye a well-established, fully mature tree, laden with beautiful and nutritious fruit, one that is completely unaffected by changes in the weather; a wonderful picture of stability and unchangeableness, with that peculiar winsomeness that comes only with age and experience. Even in the most severe drought it has a ready supply of water and continues producing delicious fruit, because it stands close by a river with its roots going deep down into the earth to tap the hidden supplies of moisture. It has an invisible supply to sustain it when the rain fails and the surface water dries up.
I ask myself:

Am I like this? Do my 'spiritual roots' go down into Christ (Colossians 2:7), down deep into the soil of God's marvellous love (Ephesians 3:17), so that I am able to remain fresh and vibrant at those times when others around me are spiritually 'dry'?
Even more, am I able to refresh others? Do I have the capacity to be a spiritual 'watering can'? Am I a source of the living water for others (see John 7:37-39), so the gift Jesus promises to all who persist in asking him (Luke 11:11-13), and which he spoke to the Samaritan woman at the well about (John 4:4-15), is evident to all from its outflow in my speech and conduct?
I may be mature in years, but do I show signs of genuine spiritual maturity? How, for example, do I measure up against what Paul tells Titus to teach the older men in Titus 2:2?
Verse 4 shows me how insubstantial and insecure are those who are not rooted in the Lord. They are no more stable than loose husks of grain caught up and blown about by every chance breeze - mere spiritual 'balls of fluff'.
As I rejoice in my security in Christ, some nagging questions arise:

Testing the Words

Though Scripture tells us not to stifle the Holy Spirit, we are nevertheless bidden to test everything that is said, accepting only what is in line with the Scriptures, and rejecting anything we hear that is inconsistent with God's revelation in his Word (1 Thessalonians 5:19-22). This applies not only to words spoken (or written) by others, but also to our own thoughts and intimations. Satan, though a liar and the father of lies (John 8:44) rarely if ever tells a barefaced lie! More often he mingles truth with falsehood, like a sugar-coated pill filled with poison, in order to deceive us into swallowing it. This is why we need to test the spirits to determine the source of what we have heard. Jesus, the Good Shepherd (John 10:11 and 10:14), assures us that all whom he has called to be among his own flock follow him because they recognise his voice. They won't follow a stranger; they will run from him because they don't recognise his voice (John 10:4-5). Comparing what we hear with the authentic cadences of our Lord's voice as we hear it in his Word, is our ultimate safeguard against deception.

(Return to 3. Pray; return to Acknowledgements)

Am I in a similar danger too? Do I allow myself to become like a storm-battered ship,tossed back and forth by the waves, and blown here and there by every wind of teaching (Ephesians 4:14 (NIV-UK)), childishly forever changing my mind about what I believe because someone has cleverly lied to me and made the lie sound like the truth (Ephesians 4:14 (personalised))?
Do I follow every new spiritual fashion, allowing what I believe to be based uncritically on what others are saying at the moment - the theological 'flavour of the month' - or is my faith firmly grounded in God's Word?
Do I always test those who claim to speak by the Spirit to see if the spirit they have comes from God, not least those from whom I hear what purports to be the word of God (1 John 4:1-3)?

(See the marginal article Testing the Words for some further thoughts and scriptures on this vital point.)

And, especially if I am a teacher (or writer or editor), do I keep a close watch on myself and my teaching? For example, while I am compiling this website, am I always careful to stay close to what is right? (1 Timothy 4:16 (personalised)) and not go beyond what is written (1 Corinthians 4:6 (NIV-UK)), bearing in mind that, we who teach will be judged by God with greater strictness (James 3:1)?
The reflections in this section, apart from the article Testing the Words and some additional references he has added while writing the page, came to the author spontaneously as he pondered the first four verses of Psalm 1. It took him only a little over 40 minutes. Just think what the Lord might be able to say to you if you were able to give a whole hour or more to meditating on his Word!
(The illustration accompanying this meditation is used by kind permission of the artist, Marybeth Stafford. To visit her website, please proceed via our Links to Other Websites).